Tips
How to get social media traffic
Social media are excellent sources of various traffic. This is why SMM has been working successfully for many years. For dating offers, social media also provide lots of interested users. Let's take profit of it and promote your affiliate link on Facebook, Instagram, Twitter and other popular sites with large audiences.
While attracting social media traffic, remember:
Dating is a special niche. Sometimes bots may indicate ads of dating sites as 18+ content and block links or ad placements. So be sure you are aware of the requirements the social media have and of the promo methods they allow.
Filter the users. For affiliate2day.com offers, a target user means a man, age 18+, single, the country in their profile belongs to the list of allowed geos.
Present the offer correctly. Well-tailored creatives are the key to a successful presentation of the service as well as a guarantee that you will get good traffic that converts.
Speak to your users. Your channel or community will work better for you if you communicate with the subscribers.
Use chat bots to send newsletters. Send your affiliate link, offers our sites have etc.
Be honest. Never promise free services if no such were officially announced. Offer free sign up and services that users don't need to pay for.
Be Aware of the Latest Affiliate Marketing Trends
To be a successful affiliate, simply setting up a campaign and waiting for the results is not enough. A good expert continues to grow by staying informed about fresh news in affiliate marketing as well as being aware of those good old things that always work.
If you are a newbie, it is important for you to do your own research and learn all you need to know about ad campaigns, traffic and marketing materials. The Internet is your best and free advisor as it can offer everything you should know.
- Read articles on reliable sources. Remember the key points and useful tips.
- Check out affiliate marketing blogs where a lot of advice and life hacks are available.
- Join affiliate marketing communities. Take part in the discussions, get expert opinions, ask any questions you may have.
- Check news about affiliate marketing. To stay tuned, read yearly digests, forecasts etc. about the trends, new methods and technologies.
- Stay in touch with your affiliate manager. If you are working with an affiliate program, your personal manager will provide you with the necessary explanations and make your work easier and clearer.
Always keep improving your knowledge and experience!
How to use videos in your campaign
To promote female profiles, Affiliate2Day.com offers many short video ads that are available as marketing material. These are attractive YouTube clips showing the beauty of single women in motion. The videos are created by our professional editors to present the profiles in the best possible way.
It is very easy to use videos as ads to promote your affiliate link. While banners can attract through great design and prompt people to act, videos are able to do this even more effectively: a user can enjoy seeing people as they really are. Not too long to bore the viewers, our videos work perfectly for your conversions.
To display videos on your dating source, just paste the code into your website code. If you work with social media, a link to the video + your affiliate link = high-performing duo.
Don't be afraid to try this! By continually using different ads, you will always be able to understand what your users like and want to see. It helps you to update your promo when necessary and achieve better results.
Stay tuned with Affiliate2Day.com Tips
How to use banners
Promotional banners are the easiest and most effective way to advertise and attract the target audience. Banners can be placed on your website, blog or social media account to catch the attention of your subscribers so they click on your affiliate link.
Here are the steps:
1. Sign in to your affiliate account
2. Choose Banners in the Marketing Materials tab
3. Choose the banners that are designed to promote your selected offer
4. Select the best banners of relevant size
5. Copy the banner code onto your website or save the image and add your affiliate link to it
6.Watch your revenue grow!
Be careful when choosing the most efficient banners for your traffic source. Affiliate2Day.com offers a wide range of ads for different kinds of users, so be aware of the preferences your users indicate so that your campaign works well.
Tracking the user statistics is also important. If you notice that some banners do not work as well as you would like, simply replace these with other images and then check the results. Keep trying new ads to improve your campaign and earn more.
How to get quality leads for dating offers
Good dating leads are real people (for our offers – male users) who are interested in online dating and are ready to pay for the services provided.
- Place attractive ads that will convert. Introduce the offer and its main features. Don't forget to mention free and fee-based services. This way, your user will get a clear understanding of what to expect from the offer they sign up to.
- Control the number of leads you drive. There's no need to bring hundreds of leads daily if none of them has an intention to buy any service promoted. A couple of interested users may bring you more profit than several hundreds of those who just sign up and forget it. When setting up your campaign pay attention to the lead characteristics we welcome and focus on them instead of just inviting everyone to the website they won't use regularly.
- Be patient. Some people, especially older users, may need more time to get familiar with the offer's features and understand if they want to use it. It may take them several weeks or even months to make their first decision to purchase, so give your users time and don't give up if nobody buys anything within a month. Dating is a vertical that requires patience and time. Just keep working regularly, track your results, update your promotion if needed. With proper traffic and a nice promo, you will definitely make a scoop!
- Dating and Adult offers are not the same. Of course, some people who use adult websites may be interested in dating, too, but if we speak about target audience for our offers, it is not about the users of adult services. We offer online dating for serious relationships, not just hookups, so it is worth considering it when choosing the sources your traffic comes from.
Follow our recommendations, keep giving a little bit of time to your affiliate work regularly and you will see great results with affiliate2day.com.
Use Deep Links for your Ad Campaign
Deep Links (or alternate page incoming links) are the links that take users to a specific page or place on the page. This saves the user time and energy and improves user experience as well.
If you want to promote a specific girl's profile or a certain service, creating a deep link for that is a perfect solution here. Speaking about our offers, a deep link to the list of Asian or Latin girls, for example, will save your user interested in finding a Chinese girl much time and clicks.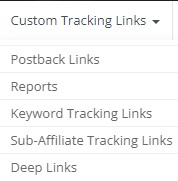 You can create an affiliate deep link to any place of the offer right in your affiliate account.  Just copy the URL you need and paste it into the field in the Deep Links tab and press the button. Your affiliate deep link is ready!
Use deep links with banners, create them for photo galleries or landing pages, promote users' profiles or services – the possibilities have no limits here. Enjoy working and earning with us!
Track your statistics
It's always important to track the results of your work. Why? You simply need to know you're doing everything right in order to succeed. If your campaign isn't working too well, it needs updating.
So, here are some ways to stay aware of your results as our affiliate:
- General Statistics Tab
General statistics are available on your dashboard where you can view recent traffic, leads, sum earned etc. Everything is clear and easy to understand.
-  Tier statistics
If you have sub-affiliates, you can view their results on this page.
- Lead statistics
This table is particularly important for Pay per Lead affiliates as it tracks all the leads they bring. You can see the user's details and analyze your traffic.
The statistics operate in real-time mode. Every change is displayed there immediately.
-  Ask your manager to provide you with detailed statistics
If you need extra data to work with, feel free to request this from your affiliate manager.
-  Install postback
To track users at your end, just install postback on your account and get the information from the software you use.
So, the choice is very wide. You're free to decide what you need to know to optimize your work and find the relevant statistics in your account!
A good publisher = a good affiliate partner
So, you've decided that your career will involve internet marketing. Now you have your own website and perhaps a small team or partner, it's time to get down to work.
As a publisher (affiliate) you must create a promotion strategy that will allow you to earn income.
1. Choose your niche – if it is dating, then affiliate2day.com is the right place for you
2. Work with the target audience – What do people want? What are their needs? What are the benefits for target users?
3. Carefully investigate the offer you are going to promote, find out its pros and cons
4. Research competitors, their specialties
5. Select the best marketing materials and landing pages
6. Prepare your resource so that it attracts the relevant audience
7. Place your ads with affiliate links at the best locations so more people will see them
8.  Watch the traffic flow and behavior. Make amendments if necessary
9. Comply with the affiliate program rules and rake in your revenue!
Grow with affiliate2day.com!
Request your payment in time
Affiliate2day.com affiliates receive payouts once a month for the previous month. The payout period begins on the 20th of each month and ends on the last day of the month.
To request a payout, you must have a minimum of $40 available for release and the green button will appear on your dashboard if this is the case. When you click the green button, your manager will receive a notification that you would like to receive your monthly earnings. The button is available once a month.
An alternative way to request funds is to contact your manager directly in chat, by email, or via Skype.
In line with our Terms of Use Agreement, we do not send payments to affiliates without first having received a request from them. So, if you don't want to miss the payout period, contact the managers in good time before the payment period begins.
To ensure that you are eligible for a payout:
-  You must have earned a minimum of $40 during the calendar month
-   For Pay per Lead affiliates, your sales conversion rate must be 2% and more. Check your conversion rate on your dashboard. If you don't have sufficient levels of  sales conversions within the calendar month, you cannot receive a payout
- Your commissions must be valid according to our Terms of Use (if a commission is more than 365 days old, it is considered to have expired and we cannot release it).
To receive your funds, you must also provide your payment details to your affiliate manager. Make sure that you give the correct data otherwise problems may occur with the payout. If you have changed your account details, please notify us before the payout period begins.
Become a millionaire with affiliate2day.com!
How to attract referrals and earn extra with them
Referrals are 2-tier affiliates invited by you to promote our dating offers. For bringing us one or several affiliate partners, you get the right to receive 10% of the revenue earned by them and paid out.
Attracting referrals is easy: in your affiliate account, you have a special tier linking code. This is a link, which your potential sub-affiliate should follow to sign up to affiliate2day.com. After their account is approved, this new affiliate is attached to you and you receive 10% of each commission they get.
Things to keep in mind if you decide to invite referrals:
1.       Use only your tier linking code or special banners available in your dashboard to get sub-affiliates. If they register independently, they won't be considered your referrals
2.       Avoid fraudulent activities: never create sub-affiliate accounts on your own to earn extra. We do not welcome such actions and may punish you for the violation of the program rules.
3.       Inviting new referrals is not enough. They must be webmasters, media buyers, or other digital experts ready to promote dating offers. To let you earn extra and generate revenue for yourself, they need to work actively and bring good traffic.
4.       If you decide to advertise our affiliate program and invite partners, choose a nice banner for that. They all are available in the Marketing Materials section. Or just promote your tier linking code, but do it carefully and make sure that your audience includes potential sub-affiliates.
5.       Feel free to contact your manager if you need further explanation. Track your sub-affiliate commissions in your statistics, request their progress from the support. Stay informed and work actively, too – that's your key to success.
Advantages of mobile traffic for your affiliate campaign
When you start creating your ad campaign to earn with affiliate2day.com, you need to pay special attention to the types of traffic you're going to drive. Desktop traffic is great, but so is mobile traffic. And here are the reasons why mobile traffic converts well:
1. Over 50% of Internet users prefer mobile devices. Using apps and mobile sites on a smartphone or tablet is fast and convenient. It's easy to check new messages on the go and reply instantly. For dating offers, it's important to let users stay in touch with one another, that's why mobile traffic is welcomed.
2. It's also easy to make purchases on a smartphone. If a user has a dating profile and needs to pay for a certain dating service quickly, then in-app purchases or mobile purchases are at their disposal. No need to enter the credit card data if it is saved in the account. Just a couple of taps – and there you go!
3. All affiliate2day.com offers have well-tailored mobile versions. Moreover, behappy2day.com also has iOS and Android apps. All of our mobile versions are easy to use, have great designs and user-friendly interfaces.
As an alternative, users are welcome to choose responsive desktop versions that display well on any mobile device and adapt to any screen size.
4. Notifications alert users to new emails and messages. Notifications are great when it comes to online dating and live communication. When a letter or a chat invitation is received, the user is notified immediately and can then start a new conversation or read and reply to a letter. Typing on a smartphone is fast and easy and pics can be attached to messages too.
We welcome mobile traffic to all of our dating offers.  Make sure to consider this when you start working as our affiliate, always try new ways to get high-quality traffic and grow!
How to be a successful affiliate
There are several things to know that will really help newbies to work effectively. To become a good affiliate who can bring excellent traffic to an advertiser and so earn decent revenue, you should follow these recommendations:
1. Use several traffic channels simultaneously.
Do not limit yourself to just one website. Use social media, search traffic, etc. to grab more of an audience.  This way, you can increase the traffic flow and your earnings.
2. Know what you promote
It is obvious that you need to understand the offer you are working with and the specifics of the target users. Get as much information as you can, contact program managers for support. This will help you to filter traffic, use appropriate ads and achieve good results.
3. Analyze your promotion results and look for the most efficient ad methods
It's not enough if you simply just place a banner on your website. You need to track the audience that is interested in the offer, the quality of your traffic, and the conversions. If different strategies provide different results, that's fine. You can use the analytics to improve the channels that work for you and stop using those that are not relevant.
4. Study new advertising strategies
New promo methods and strategies appear constantly. To stay tuned, subscribe to relevant websites and blogs about affiliate marketing to pick out the ideas you like and want to try.
5. Stay patient
Affiliate marketing is not a very easy way to earn. It involves more than just placing an ad and receiving money for the leads. Research your audience, follow the program requirements, set up targeting, avoid prohibited promo methods and stay in touch with your affiliate manager to reach the top!
How to get high-quality dating traffic
Promoting dating services means attracting people interested in online communication. Here are some tips for you:
1. Research the audience – find out more about the main audience for the offers (you can find out how in previous tips), their age, location, gender, and preferences.
2. Make sure that your source is relevant to get dating traffic – for example, if have a beauty blog for women then it's unlikely that male users will visit this and see your ad. However, if you have a website about men's hobbies, you'll have more chances of catching interested users.
3. Choose ad materials – pick the most appropriate ones that will look attractive, grab the attention of your users and, of course, convince them to click. Don't be afraid to try various ads and replace those whose conversion is too low.
4. Quality over quantity. Although it's great if you bring lots of leads, if they don't use the website they've signed up to, this won't make any sense. Concentrate on inviting people who really do want to find a soulmate and are ready to pay for online services to help them.
5. Always track your statistics. Check the statistics daily to see which ads are working better. If you keep your eye on the ball, you will know when it's a good time to change something in your campaign.
Take your pick from the affiliate2day.com dating offers
The 2Day's family of sites includes four international dating offers:
Behappy2Day.com – the main online dating service for family-oriented men from Western counties, Europe, Asia, and other parts of the world who are looking for a life partner from Slavic, Asian, or Latin American countries. This is not simply a site where visitors come to chat – this is a respected dating service where men can enjoy communication services, real meetings, etc.
Asiansingles2Day.com – this website presents only Asian single women and is specifically designed for men searching for Asian partners.
AllTverLadies.com – another premium dating service for those who love international dating and who are seeking a serious relationship.
OneWife.com – the dating website where it is possible to communicate without any language barrier and for soulmates to meet online.
To choose the best offer to promote, we recommend you visit the websites, learn more about the services provided, the way they work, and the pricing as well. The FAQ sections are at your disposal.
You can choose one site, two, three, or promote all four of them! Keep checking your statistics to see which offer is most popular and set up your promo accordingly. Contact your affiliate manager for the support!
Everything you need to know about the Pay per First Order program
If you wish to earn up to $300 per customer transaction – the Pay per First Order Program is the best option for you. It allows you to earn between $25 and $300 for the first purchase made by your customers on one of our dating sites. It's easy: the more target users you attract, the more of them will buy and the higher your revenue will be.
Keep in mind that the users' geos matter and set up your campaign in accordance with the program's rules and requirements.
Pros:
-  Only 1 valuable sale per customer is needed to earn a commission
-  Variety of target traffic geos to work with
-  The more purchasing customers you bring, the higher your commissions will be
Cons:
-  Only 1 sale per customer applies to the commission. Any further transactions relating to that customer do not bring any more commission no matter how much the customer buys
-  Purchases made by users from unreliable countries do not qualify for commission
If you know your audience well and are certain they'll enjoy our services – advertise our websites using this program and you'll make great earnings!
Everything you need to know about the Pay per Lead program
The Pay per Lead program offers you the opportunity to generate high-quality traffic to our offers and receive a fixed commission for each approved lead. To be approved, a lead must match the following criteria:
-          Male sign-up
-          Age 18+
-          Genuine male name
-          Country and current location must be the same and be on the list of target countries
-          Unique IP address
You will receive $2.5 - $8 per lead depending on the user's geo. It's important to remember the 2% sales conversion rule: at least 1 per 50 approved users must make a valuable purchase of our online services within a calendar month. If your leads just sign up but don't buy anything, we will not release your payout for that month.
No worries though! The approved commission remains valid for 365 days. If later on your conversion rate is over 2% and covers your previous unpaid months, we will extend the conversion to those and release the payouts. Your affiliate manager will gladly explain the details.
Don't forget that the key to earning with Pay per Lead is the quality and relevance of your users. Attract single men who want to date women online and are interested in high-quality matchmaking services and you'll profit from the program!
Everything you need to know about the Pay per Sale program
The Pay per Sale program allows you to receive 25% of each transaction that your users make on our website(s). You refer customers who are interested in dating, they buy our online services – you receive 25% of the value of each purchase.
Pros:
-       Lifetime commissions (you receive commissions for as long as your users continue to purchase)
-       Geos worldwide
-       Commission for the promo price (20 credits for $2.96) included
-       Welcome bonus of $25 (can be withdrawn with your payment min. $40).
Cons:
-       You won't receive any commission for the leads you refer.
Choosing the
Pay per Sale program
gives you the great opportunity to earn stable commissions and receive good payouts. We recommend you set up your campaign bearing in mind that our target audience is single (divorced, widowed) men, age 35+, interested in a serious relationship with single women from West European, Asian, and Latin American countries and who are ready to pay for the high-quality dating services we offer. Creating your ad campaign taking all this into consideration will give you the best chance of attracting clients who will become our loyal customers and bring you benefits!
Things to avoid in your ad campaign
We strongly recommended that you use only permitted promotional methods to avoid violating the program rules. Using prohibited methods of promotion will lead to inappropriate traffic quality and may result in a penalty or the suspension of your account.
So, here is what you should avoid doing in your ad campaign:
1. Generating traffic from adult resources (webcam, porn websites etc.). Users of such websites are not our target audience and may not be interested in our services.
2. Providing incorrect information to potential users. Ensure only the correct information is given about the product you are promoting. If you aren't sure about certain details of your offer, request confirmation from your affiliate manager.
3. SPAM newsletters. If you are driving traffic from email campaigns, utilize your email database properly and carefully. Don't send emails too often. Use templates in your account or create your own but don't forget to gain approval from your affiliate manager.
4. Using illegal methods to generate traffic.
5. Placing our ads on sources that promote violence, illegal acts etc.
6. Ignoring data protection regulations (GDPR, CCPA etc.). Protect the privacy and rights of your users ensuring that their data is safe. Note that all of our offers are GDPR-friendly and the appropriate documents are placed on our websites.
Remember that a properly setup campaign is your guarantee of success!
Use appropriate marketing materials
Our entire range of ad materials is available to registered affiliates on their dashboard.

Before creating a campaign or placing an ad, view the choice of materials and choose the type and style according to your traffic source.
Banners: There are various sizes from the smallest to huge skyscrapers etc. but most have dimensions appropriate for Google AdWords. 
Videos: These are short YouTube videos showing female members from our dating sites on the move. If you place these on your site or social media page, your users can view how beautiful the ladies are and are likely to sign up. Note all videos feature website logos.
Lightboxes: This banner features a small preview that prompts the viewer to click on it to reveal the full image. Although an ad like this doesn't take up a lot of space on a website, the pop-up reveals gorgeous members and features of our dating services.
HTML5 Ads: Dynamic ads, perfect for a website or blog. You can choose banners, which are great for your homepage, or features from our site like Chat Invitations, Featured Ladies, etc. Integrated into your source, they'll look natural and attractive to your users. High conversion rate guaranteed!
Text ads: These are short pieces of content perfect for use in paid ads. Don't forget to check the texts before you use them to make sure the content is appropriate for your promotion.
Email templates: Bright newsletter formats with perfectly prepared content and photos of top members. All you need to do is choose a template and start your newsletter. Don't forget that any violation of newsletter rules may mean your emails go into SPAM which is bad for your campaign. 
We constantly update the Marketing Materials section so fresh ads are always available so you can change your campaign as often as you need to. Don't use only one type of ad - mix them up and use several kinds to grab the attention of your users and make them click!
Steps for a great start with affiliate2day.com
Step 1: Choose your program type
Get acquainted with all our affiliate programs – Pay per Sale, Pay per Lead and Pay per First Order. Check the conditions and features of each program and select the one which suits you best. Your affiliate program should work well for your traffic quality, volume, and type.
Step 2: Read our Terms of Use Agreement and Privacy Policy
These pages contain important information about the program's rules, requirements, and prohibitions. To avoid misunderstandings with the estimation of your traffic quality, payouts, etc., we suggest you make yourself fully aware of the main points of our cooperation policies.
Step 3: Create your affiliate account
Please complete the signup form carefully. Provide true and full information to gain account approval and create a good basis for ongoing mutual trust. Make sure that your traffic type does not violate our Terms of Use Agreement. Read our FAQ page to discover useful things to know about our work. 
The profile check will take up to 72 hours. When your account is either approved or declined, you will be notified via email.
Step 4: Get in touch with your affiliate manager
Our affiliate support is available in Live Chat on the site, by email, and via Skype. You can also send a request using the Contact Us form. Your dedicated affiliate manager will guide you, provide any information you need and help you to begin working with us.  
Step 5: Start driving your traffic
If you have a dating blog, a social media page, your own website, or any other traffic source that would work really well for a dating affiliate program then you have made the right choice! Use your Standard Linking code or create other affiliate links in your account. Use our Marketing Materials to set up your campaign. Check your Lead Statistics and commissions to see your results. 
We wish you an excellent start with affiliate2day.com!
Work with your affiliate links
The standard linking code is your standard affiliate link that directs users to behappy2day.com - our main dating website. You can see this on your affiliate dashboard:


If you want to promote any of our other dating websites, create your affiliate links for these on the Alternate Incoming Page Links page. 
It's very simple. You just need to copy the URL of the site you want to promote - asiansingles2day.com, alltverladies.com, or onewife.com.
Paste the URL into the field:

Then click the button to get your affiliate link for the desired website.
Use this feature to create affiliate links to certain website pages or landing pages.
Set up your targeting
Our target audience is single men who want to find love online and are ready to pay for dating services. If you take this into account when setting up your campaign, you will then only get quality traffic that will convert.
The best sales conversion rate comes from users from the USA, Canada, Australia, the UK and European countries. The full list of target countries can be found here.
What to do to win high-converting leads:
Use proper ad materials (banners, lightboxes, videos etc.) that present our dating websites in the best way
Avoid attracting female audience and users under the age of 18 to your traffic sources
Avoid giving incorrect information about the product you are promoting - telling the truth will ensure respect for your source and our services
Don't purchase low-quality traffic from third-party companies
Track your traffic in your account and ask your affiliate manager to assess its quality
If your traffic doesn't convert, update your campaign.
Choose your promotional method and set up your campaign
These promo methods are welcome:
Ads on your website
Your dating/relationship/lifestyle or other relevant blog
Social media (Facebook, Twitter, Instagram, TikTok, Pinterest etc.)
Paid ads (Google Ads, media buying etc.)
Email newsletter (please check the T&C page for more details)
Reviews of dating websites/dating apps etc. 
These promo methods are not allowed:
Incentivized traffic
Adult resources
Any websites/pages that promote violence or are against the law
SPAM 
Keywords related to competitors of our dating websites
Keep in mind that our targeted audience is men, 18+ age (preferably 35+ age), single and interested in serious relationships with single women. The most converting geos are Europe, North America, and Asian countries.  Please consider this when setting up your promotion to increase your leads and sales conversion.

Please don't forget to check our Terms of Use Agreement to find all conditions and rules.